Our History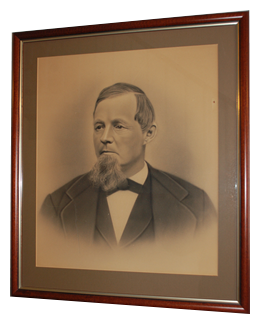 David R. Hastings, formerly of Bethel, Maine, opened this family practice of law in 1847 in Lovell, Maine. Forced by illness into early retirement from the Civil War in 1864, he immediately swapped his Lovell law practice with a Fryeburg attorney and reestablished his law practice in Fryeburg, Maine where it has continuously existed ever since.
David R. Hastings' only son, Edward E. Hastings, joined his father as an attorney in 1879 starting the tradition of a family law practice as Hastings & Son. The two practiced together until illness caused David R. Hastings to retire in 1892. Thereafter, Edward E. Hastings continued as a solo practitioner of law until his son, Hugh W. Hastings, entered the law office in 1914.
They practiced in the days of travel by horse and wagon or train. It was common to travel to the Oxford County Probate Court in South Paris, Maine via Portland by train from Fryeburg, stay overnight and travel the next day to the Court by train. After completing probate matters at the Court, they would return by afternoon train to Portland, again stay overnight, and then take the train ride to Fryeburg on the third day of this court trip.
Hugh W. Hastings served as a Captain in World War I organizing his own company in the Milliken Regiment; a customary enlistment method of that era. After his father's illness in 1936, Hugh W. Hastings continued as a sole practitioner of law. In 1943, he was appointed the only judge to serve for the Western Oxford Municipal Court sitting in Fryeburg and served until the Court was reorganized as part of our present District Court system in 1965. As a part-time Judge hearing traffic citations, minor offenses, and bind-over hearings for the Superior Court in South Paris, his office was his courtroom. As an avid outdoorsman, Judge Hastings vacationed every April to trap fur at a rustic family camp in Fryeburg with only canoe access, no electricity, but with telephone service on a twenty-eight party line.
While on vacation trapping, officers would often telephone Judge Hastings primarily on criminal matters. If needed, he would meet the officer with a prisoner to bind over to Superior Court for a serious offense. He would travel by canoe about two miles to Walker's Bridge at the public road crossing the Saco River, hear the State's evidence and then act judiciously on the paperwork all at stream-side. He then had to paddle the two miles back to camp. It was an earlier era when justice was meted more swiftly, yet neighborly.
Clarence Mulford, creator of Hopalong Cassidy, through his friendship with Judge Hastings established the Mulford Trust; a large charitable trust to benefit other qualifying charities that continues to be administered through this office by attorneys David R. Hastings III and Peter G. Hastings as Trustees.
In the 1970's, a fire destroyed the top two floors of the law office, then located on Portland Street in Fryeburg. In 1990, the firm moved to its present location, 376 Main Street. The office now occupies the historic Osgood House. The original Osgood House was destroyed by fire in the early part of the 19th century. It was rebuilt in 1829 and is listed on the National Register of Historic Places. Daniel Webster, who served as headmaster at Fryeburg Academy in 1802 and also copied deeds at the Oxford Western District Registry of Deeds in Fryeburg, once lived in the original Osgood House.